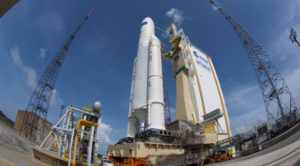 Often when faced with a challenging task, we may hear the phrase "It isn't rocket science," as if to say it is an easy task and one that can't possibly be as complicated as propelling several tons of heavy metal thousands of miles above the earth and into orbit.  Today, you might be forgiven though if you don't take that phrase as a sign that a task will be any easier than you anticipated, given how easy some successful scientists and engineers in France have made launches look.  No company makes this look easier than sector leader Arianespace, with a nearly perfect safety record and an impressive resume of projects behind and ahead of them.
Arianespace, the world's first commercial launch company, is in the business of putting other people's stuff into orbit, and does so with unparalleled precision and accuracy.  More specifically, Arianespace launches satellites for commercial and government entities all over the globe from their facility in French Guiana, and is able to place them into any orbit the customer demands.  These customers are household names for most of us; since the company's founding, it has launched spacecraft for more than 100 customers, comprising more than 50% of all global communications in orbit.[1] If you have ever made a transatlantic cell phone call from the United States to Europe, used a GPS system (in the US or in Europe), watched a World Cup match in Europe or Africa, or looked at a Google Earth picture of the streets of Venice, you have benefited from an Arianespace launch.  With the best safety record in the industry, boasting over 120 successful launches without an accident, they have a better safety record than competitors such as SpaceX, International Launch Services (ILS), and others.
But decades of continued success have not caused Arianespace to rest on its heels.  Arianespace's current launch vehicle, the Ariane 5, will be retired in 2020 when the new Ariane 6 launch vehicle, currently in production, makes its debut.[2]  The Ariane 6 is the result of over a decade of research and development in France, and will bring the company into a solid leadership position competing with new market entrants SpaceX and Blue Origin in terms of efficiencies and costs.  The Ariane 6 will boast an exciting array of features such as a re-startable engine (itself a totally new design, named the Vinci engine).  By employing an engine which can be re-started multiple times in the Ariane 6 vehicle, the new launch vehicle will be able to carry out many different types of missions, and can place multiple satellites (known as payloads) into different orbits.[3]  The rocket will also be partially recoverable and will bring the upper-stage section of the vehicle, commonly left in space on other vehicles, back to earth after dispensing all of the satellite passengers that rode into space.[4]  While this may sound simple, it is a huge development, as it will reduce the debris left behind in space after each mission.  As more and more spacecraft are launched by countries all around the globe, the amount of space debris floating in various orbits threatens to crowd out operational spacecraft.  At a minimum, it puts at risks all of our global communications systems, for a crash in space could temporarily knock out any number of telephone, broadband or relay systems.  The Ariane 6 will help to address this problem by 'cleaning up' a large portion of its own operational mess.
Carrying multiple cargoes in the same launch vehicle will bring the cost per launch per payload down, and allow Arianespace to serve a diverse portfolio of clients. But, this is not the only efficiency that will result in lower launch costs to customers.  Airbus Safran Launchers, the primary contractor building the vehicle for Arianespace, overhauled its production methods to reduce the manufacturing costs by over 50% when compared to the Ariane 5, employing exciting methods and new materials.[5]  Incredibly, some of the rocket will even be 3D-printed![6]  This will bring the cost per Ariane 6 launch down to approximately $71 million per launch, compared to $175 million per launch for the Ariane 5.  While still higher than SpaceX's cost of $61 million per launch for a Falcon 9 ride to space, the Ariane 6 may well be cheaper on a per-ton-launched basis, as the Ariane 6 will "have twice the mass and twice the volume of the Falcon 9, at less than twice the price."[7]
Thanks in no small part to Arianespace's developments, the future for space is going to be very exciting.  The European Space Agency has already signed up to have their Gemini satellites serve as the first 'passengers' aboard the Ariane 6 in 2020,[8] and French global satellite communications giant Eutelsat has shown interest in the vehicle as well.[9]  But more than just a sign of continued European leadership in the launch sector, the Ariane 6 is a sign of the exciting time we are living in.  While accepting the Satellite Executive of the Year award in March 2017, Arianespace CEO Stéphane Israël declared that "reliability and innovation are the winning recipe for Arianespace," noting that the international cooperation in the sector makes the industry thrive.  Since the company's founding in 1980, Arianespace's own innovations in safety, design and technique have influenced an entire industry and proven that commercial launch is important, valuable and profitable.  Ariane 6 and Vinci will continue to influence the global launch sector, and the competition and collaboration within the sector will cause all players to become more successful.  Mr. Israël's words from his acceptance speech are very appropriate for closing this column: "Space always ends up opening doors to worlds larger than our own."[10]
He could not be more right.
Works Cited
Amos, Jonathan. Full thrust on Europe's new Ariane 6 rocket. June 22, 2017. http://www.bbc.com/news/science-environment-40366736 (accessed January 19, 2018).
Arianespace. "Mission to Success." December 2017. http://www.arianespace.com/wp-content/uploads/2017/12/Arianespace-brochure-2017-GB-_12-19-2017.pdf (accessed January 2018).
—. Satellite Executive of the Year Stéphane Israël: Arianespace's success is the result of reliability, innovation and passion. March 13, 2017. http://www.arianespace.com/corporate-news/satellite-executive-of-the-year-award/ (accessed January 20, 2018).
European Space Agency. Ariane 6. July 12, 2017. http://www.esa.int/Our_Activities/Space_Transportation/Launch_vehicles/Ariane_6 (accessed January 20, 2018).
Henry, Caleb. ASL CEO Explains How the Ariane 6 Will be Competitive. June 21, 2016. http://www.satellitetoday.com/publications/st/2016/06/21/234847/ (accessed January 20, 2018).
—. ESA signs up as Ariane 6 inaugural customer with two Galileo missions. September 14, 2017. http://spacenews.com/esa-signs-up-as-ariane-6-inaugural-customer-with-two-galileo-missions/ (accessed January 20, 2018).
—. Eutelsat awards three launches to Arianespace, hints at Ariane 6 interest. June 2, 2017. http://spacenews.com/eutelsat-awards-three-launches-to-arianespace-hints-at-ariane-6-interest/ (accessed January 2018, 2018).
Selding, Peter B. de. Ariane 6 designers say they'll beat SpaceX prices on per-kilogram basis. April 06, 2016. http://spacenews.com/ariane-6-rocket-designers-say-theyll-match-or-beat-todays-spacex-prices-on-per-kilogram-basis/ (accessed January 19, 2018).
[1] (Arianespace 2017)
[2] (European Space Agency 2017)
[3] (Amos 2017)
[4] (European Space Agency 2017)
[5] (Henry 2016)
[6] (Amos 2017)
[7] (Selding 2016)
[8] (Henry, ESA signs up as Ariane 6 inaugural customer with two Galileo missions 2017)
[9] (Henry, Eutelsat awards three launches to Arianespace, hints at Ariane 6 interest 2017)
[10] (Arianespace 2017)