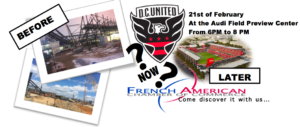 We at the French-American Chamber of Commerce love local success stories. Here, in the DC area, one of them is D.C. United.
In 1994 the US Soccer Federation selected the beautiful city of Washington as the future site for one of the MLS (Major League Soccer) seven original franchises. The "Black-and-Red" was then born. Since then, they have been one of the most successful franchises in US soccer, winning 4 titles and 1 CONCACAF title.
From 1994 to 2017 DC United has played at the old RFK Stadium in Washington, DC. As the stadium is aging, a new facility was needed.
The shiny new Audi Field, with a capacity of 20,000, is set to open this coming summer.
DC United is a proud member of the French-American Chamber of Commerce, and we are proud to support them, not only by inviting our members and friends once a year to a special game, but also by keeping them in front of the French-American community.
This year promises to be even more special, with Frenchman defender Frédéric Brillant having been recently acquired by the club.
This Wednesday Feb 21 (tomorrow), from 6pm to 8pm, D.C. United is inviting FACC members to view its state-of-the-art Audi Field Preview Center and see the progression of the project. Refreshments will be served.
The event is free and open only to FACC members (If you are not yet members please contact us). We hope to see you there.
http://www.faccwdc.org/facc-events/calendar-of-events/vue-detail/d/intercommittee-meeting-visit-of-audi-field-preview-center/